These would have been fun to have for that _Breaking Bad_ viewing party. Guess you could still get some mileage out of them at your marathon _Fallout_ session.
We love chemistry, so we really light up when we talk about this product created at ThinkGeek: our Radioactive Elements Glowing Coaster Set. Featuring the atomic number and isotopic mass of the most stable or common isotope for their respective radioactive elements, these pressure-sensitive coasters light up when you put your drink on them.
Choose to set your drink down on:
Radium-226 (Red)
Plutonium-244 (Blue)
Uranium-238 (Green)
Thorium-232 (Orange)
Set of four comes in a box with the radioactivity warning symbol. Batteries included.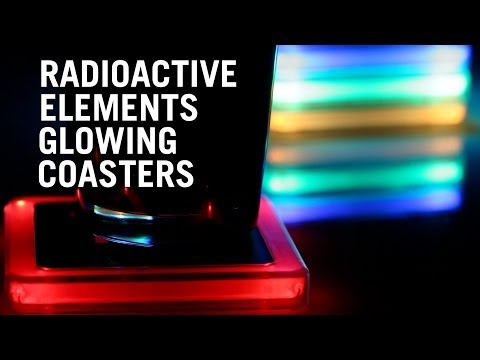 Product Specifications
Coasters that light up when you put your drink on them
Perfect for the chemist in your life
Great for parties – easily remember which drink is yours
Feature the atomic number and isotopic mass of the most stable or common isotope for each element
Materials: Plastic
Batteries: 8 3V CR2032 batteries (included)
With constant use, batteries last c. 4.5 hours
Dimensions: 3 3/4″ square, 1/4″ thick
Weight: 3/4 lb. (set of 4)
Not dishwasher safe